Private Image & Stage designer IDMM - Image design in Fashion & Stage


81806-2
Introduction
An Intermediate Course designed base on the Standard of the Academy in Paris and the market needs. Stage and Media Makeup includes Stage Performance, Concerts, Theater, Musical, Circus…etc. This course is designed to walk you through from Traditional Makeup to Creative Makeup, and hairstyling to create a Perfect Character. Indulging yourself in the charisma of make-up and modern makeup techniques, you can earn yourself a grand entry ticket to the world of Professional Makeup Industry!
Learning Objectives
The course is composed of theory and practical part; tutor will cover topics on Professional Makeup Technique, Color Theory, Advance Cosmetics Application, Studies of Facial Features, Research & Design of Character and Hairstyling.
High Definition Makeup Makeup Technique for Stage Character
The skills and key for designing different Make Up for Print Media Personality Character Makeup Ethic Makeup
Musical and Opera Character Aging Makeup Covering the Brows and Character Change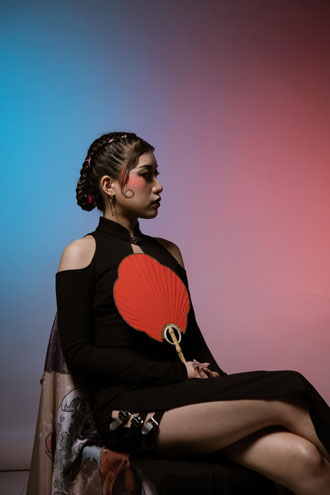 After completion of the Media Make Up Certificate Course, you will be able to comprehend the important techniques for the special needs of various Stage/Theater/Circus, etc, by strengthening your knowledge and confidence through research, design and hands-on technique to make your show perfect.
Duration:14 lessons
No. of Participants : 6-10 students ( 3-hour class )
Tuition Fee: HK$ 16, 500
Course Assessment / Distribution of Certificate : Please refer to P.12 key learning areas
Textbook/ handouts : Handouts.
Reminder
Free supply of cosmetics used in class. ( For hygiene reason, please bring your own makeup tools )
Student will be partner with classmate during in-class practice
Students are required to bring their models, make up products and tools for their exam.
Further Studies Advice :
Bridal and Banquet Hair Styling Certificate Course BH
Professional Media Make Up Advanced Certificate Course PMMA
International Professional Make Up Artist Diploma Preparatory Class IPD