Wedding Service Artist WSDA Professional Make Up Artist in Wedding Service Diploma

81902- A
Introduction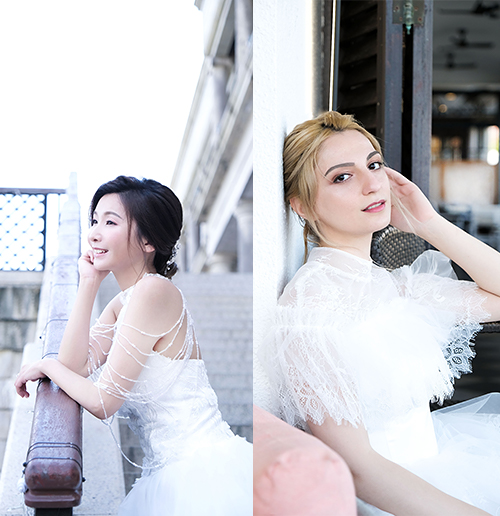 Credit: Wedding Magazine
This course focuses on training wedding makeup and hairstyling artists with professional and specialized techniques. And we have long been enjoying the reputation brought by the graduated students who have taken this course because of their professional manner and technique, and we were awarded "Couple's Favorite Makeup and Hairstyling Services" by ESD Life for 6 years.
Learning Objectives
After the completion of the Wedding Services in Make Up & Hairstyling Diploma course, student will be able to comprehend the skills and knowledge of makeup and hairstyling design for various weddings and banquets, and it gears them up to become a comprehensive and professional makeup artist for wedding services.
Course Content : (Please refer to each course contents)
Bridal and Banquet Make Up and Hair Styling
Students are encouraged to take both makeup and hair course, and gain opportunities to participate in outjobs for both makeup and hair to enhance competitiveness.
(1) Professional Make Up Basic Course - EM-A
(2) Wedding Make Up Certificate Course - WM
(3) Professional Make Up Certificate Course - MS
(4) Bridal and Banquet Hair Styling Certificate Course - BH
Duration:48 lessons
Tuition Fee: HK$ 39,500 (Installment available)
Distribution of Diploma : Professional Make Up Artist Diploma in Wedding Service can be apply if the student has passed all the modules
Textbook/ handouts : Handouts.
Reminder
Free supply of cosmetics used in class. ( For hygiene reason, please bring your own makeup tools)
Student will be partner with classmate during in-class practice
Students are required to bring their models, make up products and tools for their exam.
Further Studies Advice :
Image Design Make Up Certificate Course IDMM / Media Make Up Certificate Course MM
Professional Media Make Up Advanced Certificate Course PMMA
International Professional Make Up Artist Diploma Preparatory Class IPD