MUA For Counter or Bridal Fashion & Stage
Modern Stylist Make Up Certificate Course – MS
81803-1
Introduction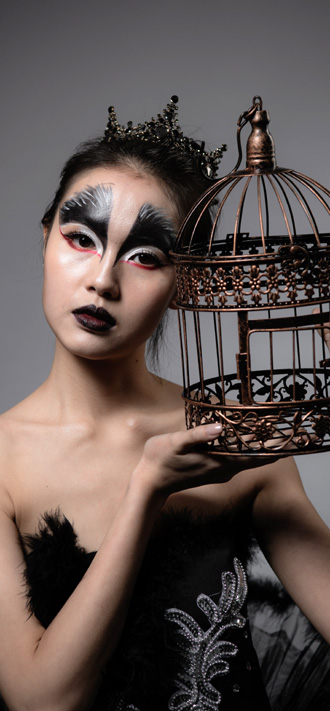 To have a better understanding of various assignments that a Professional Makeup Artist may come across, MS will give you a comprehensive knowledge from Trendy, Fashion, Photographic, Period, Stage to Chinese Opera and a glimpse of Special effect techniques.
Learning Objectives
The course is comprised of 4 units. You will come across different styles and elements of makeup, Air Brush comprehend and master the techniques and knowledge, thus building up a solid foundation to becoming a Professional Makeup Artist.
MS-01 - S Sketching Design ( 2 lessons / 2.5-hour class )
MS-02 - H Hairstyling Design ( 2 lessons / 2.5-hour class )
MS-03 - F Fashion Makeup ( 10 lessons / 3-hour class )
MS-04 - T TV and Stage Makeup ( 10 lessons / 3-hour class )
After completion of the Modern Stylist Make Up Certificate Course, you will be able to do in-depth research for the character / styling, and master the techniques for your designed makeup. In addition, you will gain some basic knowledge in hairstyling to match up with your makeup and create a complete finished look.
Duration:24 lessons
No. of Participants : 8-16 students ( 2.5 hour / 3 hour class )
Tuition Fee : HK$ 23, 900
Exam: Fashion Makeup and TV and Stage Makeup exam will be held on lesson 10.
Course Assessment / Distribution of Certificate : Please refer to P.12 key learning areas
Textbook/ handouts : Handouts.
Reminder
Free supply of cosmetics used in class. ( For hygiene reason, please bring your own makeup tools)
Student will be partner with classmate during in-class practice
Students are required to bring their models, make up products and tools for their exam.
Further Studies Advice :
Bridal and Banquet Hair Styling Certificate Course BH / Image Design Make Up Certificate Course IDMM
Professional Media Make Up Advanced Certificate Course PMMA
International Professional Make Up Artist Diploma Preparatory Class IPD