MUA For Cinema & TV BP Body Painting Certificate Course

91804
Introduction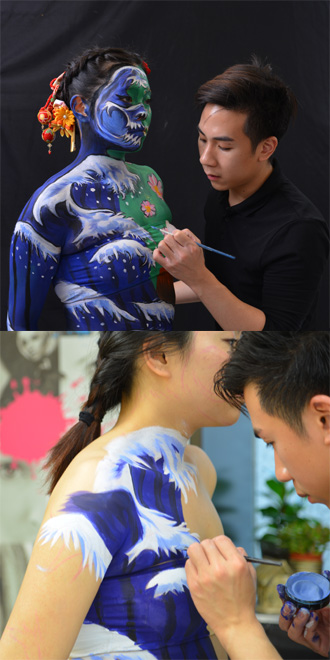 A Specialized Course for you to explore the World of Body Painting. Body painting is a real-life in-corporation of artistic produce into commercial activities, ranging from brand promotion events, school activities, to theme-park makeup, etc. The prevalence of this art form has more and more makeup artists to pursue for this technique. Taught by specialist, this course combines Chinese painting culture with existing European body painting style and skills and creates a unique and professional body painting style. This course is designed for makeup artists who have acquired basic stage makeup skills.
Learning Objectives
The course is comprised of 3 modules. It covers the body painting aesthetics of Paris with the addition of air brush usage, the composition of muscle and bones, the technique of water paint and design concepts, etc. It starts from face painting, to neck, shoulders, upper body to arms.
After completion of the Body Painting Certificate Course, you will be able to master different techniques and understand the effect brought by different textures of brush painting and air brush painting.
Duration:14 lessons ( Total : 74 hours )
Module 1 BP/FP - 01 Face Painting ( 4 lessons / 4-hour class)
Module 2 BP - 02 Body Painting ( 4 lessons / 5-hour class)
Module 3 BP - 03 Body Painting ( 5 lessons / 6-hour class)
No. of Participants : 6 -10 students
Course Assessment : Exam: Lesson 14 ( around 8 hours )
Distribution of Certificate : Student must complete the full course within one year. Exam result over 75% to be able to receive certificate. Student can apply proof of attendance for studied module.
Textbook/ handouts : Handouts
Tuition Fee : BP/FP - 01 HK$4,800
BP - 02 HK$6,000
BP - 03 HK$11,000
Remarks: Module 1, 2, 3 are independent price.
Reminder
Free supply of 3 body painting products of different textures and glitters used in class (For hygiene reason, please bring your own makeup tools)
Students are required to bring their models, make up products and tools for their exam.