MUA For Cinema & TV MMD-A PRO MUA Diploma
Professional Make Up Artist Comprehensive Diploma in Styling & Media Course – MMD-A
91906-A
Introduction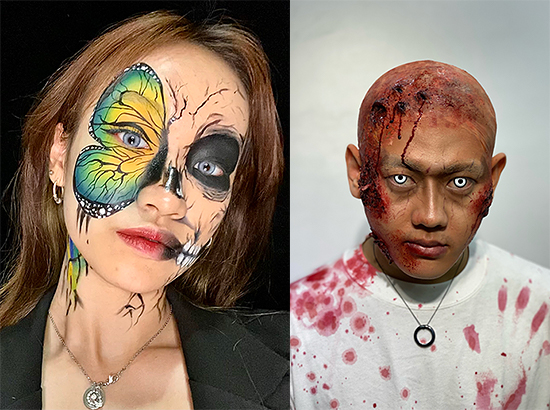 This course is specially designed for those who wish to become a Comprehensive and Professional Makeup Artist. Designed according to the market trend, this course covers the most popular areas in the industry, e.g. fashion shows, advertisement shooting, bridal makeup, media and stage makeup, etc, and gives step-by-step training on different makeup units,
Learning Objectives
enabling you to acquire professional knowledge and skills, and become professional in the industry.
After the completion of the Media Make Up Professional Diploma course, student will be able to comprehend the skills and knowledge of various makeup aspects including planning the flow of makeup and communicating with job-related persons, and become an all-encompassing makeup artist, cosmetic brands consultants, makeup trainers, etc.
Course Content : ( Please refer to each course contents )
(1) Professional Make Up Basic Course - EM-A
(2) Wedding Make Up Certificate Course - WM
(3) Professional Make Up Certificate Course - PM
(4) Image Design Make Up Certificate Course - IDMM
(5) Professional Media Make Up Advanced Certificate Course - PMMA
Duration: 60 lessons
Tuition Fee : HK$ 56, 000 ( Installment available )
Distribution of Diploma : Professional Make Up Artist Comprehensive Diploma in Styling & Media can be apply if the student has passed all the modules
Reminder
Free supply of cosmetics used in class. ( For hygiene reason, please bring your own makeup tools )
Student will be partner with classmate during in-class practice
Students are required to bring their models, make up products and tools for their exam.
Further Studies Advice :
Bridal and Banquet Hair Styling Certificate Course BH
International Professional Make Up Artist Diploma Preparatory Class IPD